RFinder Worldwide Database
Interface to RT Systems Programmers
The RFinder (RepeaterFinder) Worldwide Repeater Directory is a steadily growing worldwide repeater database including IRLP and Echolink information. The RT Systems programmers have an easy to use interface to the RFinder directory right in the programmer.

Access to the RFinder Worldwide Repeater Directory is available by subscription and can be accessed by licensed users via any version of the RFinder android app, our new browser interface (web.rfinder.net), or through third-party applications. A license subscription is required to access the RFinder database through the programmer. You can purchase that license from the link on the RFinder page in the programmer.


From the main screen in the programmer, select File | External Data | RFinder Web Service
A window opens with options for this service.
If you are not a subscriber to the Rfinder service, you can set those details from here.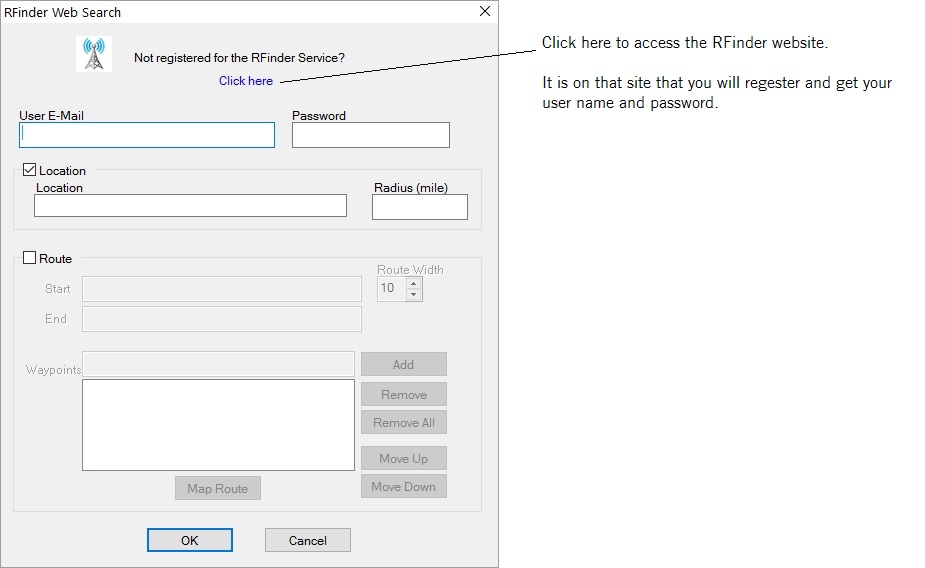 Once that process is complete, return to the programmer and complete the User and Password information. This information will be saved when you click OK. You complete these fields only once.
Now the fun begins... Complete your location.
Alternately, you can work with a route to create a list of repeaters that lie along your travels.
If this is not your desired route, enter waypoints along the route you want to take. RFinder will then track through those cities on the way between the start and end locations.
Click OK.

A screen is returned on which you will...


- Check the data returned: maybe you spelled something wrong and did not get the list you expected.
- Use the tools at the bottom of this screen to further refine the list (you may have DMR or DStar or P25 repeaters in the list that you don't want).
- Assign information for the Name field: this can be Callsign, City, State, Region, Repeater Notes or Sponsor. Remember, the radio will truncate your selection to the number of characters it can hold. So in some of the older radios, DENVER would become DENVE.
- Assign information for the Comment field: this is information that will not be transferred to the radio. It provides more details about a certain channel. You can select Callsign, City, State, Region, Repeater Notes or Sponsor for this field.
Once you finish refining the list, Click Modules. Then click Create File for: xxx radio.
The programming file for your radio is created. All those frequencies and all you had to enter was the name of the place!
11/11/2016 05:29AM